You want to buy one of this print?

Ron Galella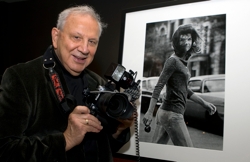 BIOGRAPHY OF RON GALELLA
Ron Galella (born January 10, 1931) is an American photographer, known as a pioneer paparazzo. Dubbed "Paparazzo Extraordinaire" by Newsweek and "the Godfather of the U.S. paparazzi culture" by Time Magazine and Vanity Fair, he is regarded as the most controversial celebrity photographer in the world.
Galella's photographs can be seen in hundreds of publications including Time, Harper's Bazaar, Vogue, Vanity Fair, People, Rolling Stone, The New Yorker, the New York Times and Life. He is widely-known for his obsessive treatment of Jacqueline Kennedy Onassis and the subsequent legal battles associated with it. The New York Post called them "the most co-dependent celeb-paparazzi relationships ever." In the famous 1972 free-speech trial "Galella v. Onassis", she obtained a restraining order to keep Galella 150 feet away from her and her children.
Galella is willing to take great risks to get the perfect shot. In his in-home darkroom, Galella makes his own prints which have been exhibited at museums and galleries throughout the world, including the Museum of Modern Art in both New York and San Francisco, the Tate Modern in London, and the Helmut Newton Foundation Museum of Photography in Berlin. On June 12, 1973, notoriously-reclusive actor Marlon Brando punched Galella without warning outside a restaurant in Chinatown in New York City, breaking the photographer's jaw and knocking out five of his teeth. Galella had pursued Brando, who was accompanied by Dick Cavett, to the restaurant after a taping of The Dick Cavett Show earlier that day.
A Bronx native, Galella served as a United States Air Force photographer during the Korean War and attended the Art Center College of Design in Los Angeles, California, graduating with a degree in Photojournalism in 1958. He currently lives in New Jersey with his wife of 30 years, Betty Burke Galella. Galella is the subject of a 2010 documentary film directed by Leon Gast entitled Smash His Camera.
EXHIBITIONS OF RON GALELLA
- PowerHouse Arena - Man in the Mirror: Michael Jackson by Ron Galella, January 7, 2009-February 14, 2009 Brooklyn, NY
- Lena Di Gangi Gallery - The Photographs of Ron Galella, December 5, 2009-January 31, 2010 Totawa, NJ
- Irish Museum of Modern Art - Picturing New York: Photographs from the Museum of Modern Art, November 25, 2009-February 7, 2010 Dublin, Ireland
- Centaur Theatre Company - Viva l'Italia, October 6, 2009-December 6, 2009 Montreal, Canada
- MART Museo di arte moderna e contemporanea di Trento e Rovereto - Picturing New York: Photographs from the Museum of Modern Art, July 11-October 11, 2009 Rovereto, Italy
- La Casa Encendida - March 28, 2009-June 14, 2009, Madrid, Spain
- Archeology Museum of Muro Lucano - Viva l'Italia, May 2009 - Present
- Palazzo Lanfranchi, Carlo Levi Hall - Ron Galella: Italian Icons, May 2009-June 7, 2009 Matera, Italy
- Hamburger Bahnfof Museum Fur Gegenwart - Celebrities: Andy Warhol and the Stars October 2008-February 2009
- Helmut Newton Foundation Museum of Photography - Pigozi and the Paparazzi, June 2008-November 2008 Berlin, Germany
- GMW Law Offices - Offguard: Ron Galella Photography, October 2008 - Present Den Haag, Netherlands
- Staly-Wise Gallery - Warhol by Galella: That's Great!, May 2008 - Present New York, New York
- Galerie Wouter van Leeuwen - Warhol by Galella: That's Great!, May 2008 - Present Amsterdam, Netherlands
- The Hollywood Roosevelt Hotel Warhol by Galella: That's Great!, May 2008 - Present Hollywood, CA
- The Tate Modern Museum - Street + Stuido: An Urband History of Photography, May 2008-August 2008 London, England
- The Museum of Modern Art - Iconic Photos of Ron Galella acquired into collection, January 2008 New York, New York
- The Museum of Modern Art - Iconic Photos of Ron Galella acquired into collection, October 2007 New York, New York
- PowerHouse Arena - That 70's Show, March 2007-April 2007 Brooklyn, New York
- The Gershwin Hotel - February 2007-March 2007 New York, New York
- PowerHouse Arena - Warhol is Dead!, February 2007-March 2007
- Galerie Wouter van Leeuwen - Disco Years, December 2, 2006-January 6, 2007 Amsterdamn, Netherlands
- Buro Beelende Kunst Vlissinger Ron Galella: The One and Only Paparazzo, Brooklyn, New York
- Paul Kasmin Gallery - Disco Years, November 2005-January 2006 New York, New York
- PowerHouse Arena - Ron Galella: The Kennedy, New York, New York
- Kunstforum - Superstars: From Warhol to Madonna, October 2005-February 2006
- Ferragamo Gallery - Ron Galella Exclusive Diary: Caught Off-Guard, September 12, 2005-December 31, 2005 New York, New York
- Artelibro Festival of Art and Books - Ron Galella Exclusive Diary: Caught Off-Guard, September 22, 2005-September 26, 2005 Bologna, Italy
- Galerie Wouter van Leeuwen - The Photographs of Ron Galella, November 27, 2004-August 1, 2005, Amsterdamn, Netherlands
- Photology - Ron Galella Exclusive Diary, September 2004-November 2004 Milan, Italy
- Holt-Renfrew - Flick, September 2003-December 2003 Toronto, Canada
- Paul Kasmin Gallery - The Photographs of Ron Galella, June 2002-August 2002 New York, New York
- Andy Warhol Museum - Ron Galella Retrospective, June 2002-September 2002 Pittsburgh, PA
- Serge Sorokko Gallery, 1997 New York, New York
- Nikon Gallery, 1993 New York, New York
- Octagon Club, 1987 New York, New York
- William Lyons Gallery, 1980 Coconut Grove, Florida
- Union Carbide, 1977 New York, New York
- Rizzoli Gallery, 1976 New York, New York
- G. Ray Hawkins Gallery, 1976 New York, New York
- Soho Gallery, 1972 New York, New York
Buy print of this photograph