You want to buy one of this print?

Anderson & Low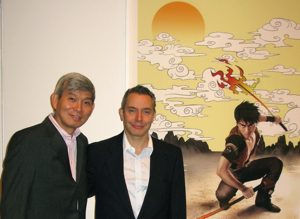 Jonathan Anderson and Edwin Low have been collaborating as "Anderson & Low" since 1990, after the Royal Academy of Arts exhibited one of their early collaborations. Their work includes portraiture, architectural studies, abstract images, reportage, nudes, and landscape and is noted for attention to concept, form, lighting, and printing. Thier work is exhibited world-wide, residing in many public and private collections including: The Metropoitan Museum of Art, New York, Victoria & Albert Museum, London, National Portrait Galleries of both the UK and Australia, Museum of Fine Art, Houston, High Museum of Art, Atlanta, National Gallery of Australia, Akron Museum, The National Gallery of Australia, the US Olympic Center, the Southeast Photography Museum, Florida, and Museet Fotokunst, Denmark.
PRESENT OF ANDERSON & LOW
Anderson & Low were official artists for the 2012 Cultural Olympiad, and have been commissioned by the National Portrait Gallery, England (NPG) to create the culmination of the NPG's 3-year project, The Road to 2012. This has been exhibited from before the Olympic Games at the National Portrait Gallery in Central London until the end of September 2012. Anderson & Low have released the project Endure – an Intimate Journey with the Chinese Gymnasts in 2012. This unprecedented work follows an extraordinary 2-year collaboration with the elite Chinese gymnasts and coaches training in Beijing. This latest project takes Anderson & Low's work with athletes to new levels. Highly stylized and painterly, the work is already attracting major media interest. A limited edition book has just been published by Serindia Publications. Manga Dreams is a ground-breaking new body of colour work, drawing heavily on contemporary youth culture, around the concepts of identity, culture, costume, perception and video that explores a hybrid art-form involving photography, graphics, digital painting and calligraphy. It pushes the limits of photographic portraiture and has been widely lauded for its originality, artistic content and execution. A monograph of this project was published in late 2010. Works were exhibited in the 2011 Venice Biennale and have just been acquired by the Metropolitan Museum of Art, New York, for immediate display from October 2012. There were solo museum exhibitions of this project in the UK, Canada and France during 2012. Other museums on four continents are currently looking at this work with a view to acquisition and exhibition. A short art film, Manga Dreams, was shown in cinemas throughout the UK (to accompany the film Norwegian Wood, based on the best-selling novel by Haruki Murakami) and was also featured in the Venice Biennale.
PAST OF ANDERSON & LOW
Numerous earlier projects by Anderson & Low have been based around the concept of sport. These include thier first major commission, The Athlete, which was staged at the invitation of the National Art Gallery of Malaysia for the 1998 Commonwealth Games Cultural Festival and subsequently toured internationally including the National Portrait Gallery of Australia for the 2000 Olympics. The US Olympic Committee commissioned American Athletes, which toured through the USA. The Contenders, Anderson & Low's images of British athletes, was commissioned by the National Portrait Gallery, London, for the Manchester 2002 Commonwealth Games. Anderson & Low also collaborated with the National Danish Gymnastic Team to create nude figurative studies based on classical imagery and iconography, translating the sporting ideal into a stylized abstracted form. The images appear in the book Gymnasts. Another book, Athletes, collects images derived from Anderson & Low's portraits of world-class athletes. Twin Palms published both books in 2002 as a slipcase set.
Anderson & Low are also known for their award-winning, sensuous architectural imagery, which inspires a sense of wonder similar to that evoked by the buildings themselves. In 2002 these were displayed in Old Parliament House, Australia. In July 2003 they opened an exhibition in Los Angeles as part of the LA Biennial, and were commissioned by the Greater London Authority for Photo London, as part of the GLA's cultural strategy for London. Anderson & Low then completed a separate project evolving from their work with athletes: Athlete/Warrior, started in spring 2001, explores two modern interpretations of the classical concept of "the hero" through images of athletes who are cadets in US military academies. The High Museum of Art, Atlanta acquired a large selection for its collection; prints from this series, along with other works, were also acquired by the Museum of Fine Arts, Houston. It has been exhibited extensively throughout the USA and UK. Anderson & Low premiered a new series of images derived from architecture, Abstractions in January 2007. A further extension of this concept, a radical, dynamic, colour reworking of these black & white photographs, was given its premier exhibition in the exhibition Chrysalis in Dallas at Light & Sie gallery, opening in late September 2007. This series been described by the Sotheby's Institute as "shattering the boundaries between photography and the other visual arts" and forcing people to "rethink the definition of photography". Museum acquisitions for Chrysalis include the Victoria & Albert Museum, London and American museums ranging from Texas to Florida to Ohio.
A new series of colour figurative images, Circus, was debuted at Paris Photo in November 2007 and an image from this was selected for the National Portrait Gallery 2007 Photographic Portrait Award. After smaller exhibitions in the UK and USA, a major exhibition of this work took place at The Lowry, Manchester, in 2010. Anderson & Low also premiered the project Champions, a major charity project to benefit the Elton John Aids Foundation, at the National Portrait Gallery, London, from October 2008. Originally scheduled to close in mid-January 2009, the exhibition proved so popular that within a month of its opening the NPG decided to extend its run by two months. Museums in the USA and Australia are in the process of acquiring this work.
Permanent Collections
Metropolitan Museum of Art, New York Victoria & Albert Museum, London National Portrait Gallery of the UK National Gallery of Australia National Portrait Gallery of Australia Museum of Fine Arts, Houtson High Museum of Art, Atlanta Worcester Museum, Massachusetts Palm Springs Art Museum
Southeast Museum of Photography, Florida Colorado Springs Fine Art Center United States Olympic Center Museet Fotokunst, Denmark Buhl Collection, USA Elton John Collection, USA and UK Wilson Center for Photography, UK British Telecom, UK Statoil Collection, Norway Akron Art Museum, Ohio
Book Publications - Monographs
Endure – an Intimate Journey with the Chinese Gymnasts, Serindia Publications, June 2012 Family Intimacies, National University of Singapore Museum, 2012 Manga Dreams, Lucky Panda Press, December
Buy print of this photograph