You want to buy one of this print?

Jan Gulfoss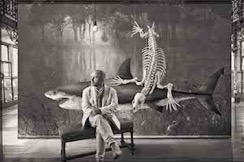 BIOGRAPHY OF JAN GULFOSS
Jan Gulfoss, Artist and explorer was born in Holland. Fascinated by nature from an early age, Gulfoss developed a particular interest in birds. He expressed this in his painting, and he also recorded the spectrum of sound reflected in their song. At the age of sixteen, he moved to the South of France, where he studied Law and Art, in Nice. His exhibition of drawings at the Biennalle de la Jeune Peinture Mediterraneenne, was awarded a prize. It was during this period, that he expanded his artistic experiences, by meeting the following Artists: Cesar, Arman, Poumeyrol, Christo as well as Peter Greenaway.
Then began a long period of research, artistic and scientific exploration. He studied in natural history museums, zoos, and one of the main sources of inspiration for his work has been the Musée Oceonagraphique of Monaco, which he first visited in 1974, and regards as being his "second studio".
Following this, Gulfoss started to explore new evolving technologies, with a view to integrating these into his creative work. Working with 3D applications, and a range of sound frequencies, he began to create photographic compositions of animals, and various other objects, staged in theatrical settings. One area that has particularly interested him, over the years, has been the concept of Time. By making a series of drawings, on decomposing fruit and animals, he has been able to expand the work further into a series of videos illustrating visually, his ideas on this subject.
In 2007, Gulfoss's studio in St. Rémy de Provence, burned down completely, and virtually all of his creative work was lost. This life-changing event, provided the impetus to start afresh, by igniting within him, a creative spark which would lead him on an epic voyage of discovery, inspired by the great explorers of earlier centuries. Driving his Lotus car, Gulfoss began a remarkable journey, which was to take him from Iceland's volcanic glaciers to hidden monasteries in Bhutan, from the Arctic Circle to Tasmania. At each location, filming as well as recording audio, he studied contrasting sounds and their frequencies - from the absolute silence of desert locations to the songs of whales resonating from the oceans, from the sounds of exotic, tropical birds to the mystical chant of Buddhist monks. One special highlight was performing on a didgeridoo, with native Aborigines. Other areas of Gulfoss's creative output have included contributions to musical performance and composition, cinema, theatre, as well as the publication of several books. Gulfoss has exhibited worldwide, since 1981.
In summer 2014, Gulfoss mounted an exhibition entitled "After the Fire", at the Chapel Notre Dame de Pitié in Saint Rémy de Provence. On-going Projects: The Modern Adventures of "Baltasar Gulfoss" (book and film), "Starman" - [a modern opera in collaboration with Bréon George Rydell]. Bréon is a Scottish writer and composer, who shares with Gulfoss, a passion for securing the welfare of the planet and its wildlife, with a commitment to discover new ways of looking at our world through art, music and multi-media platforms.
Buy print of this photograph